We may earn commission from links on this page, but we only recommend products we back. Why trust us?
The Best Nude Lipstick Colors for Every Skin Tone
Find your perfect match whether your skin is fair or deep.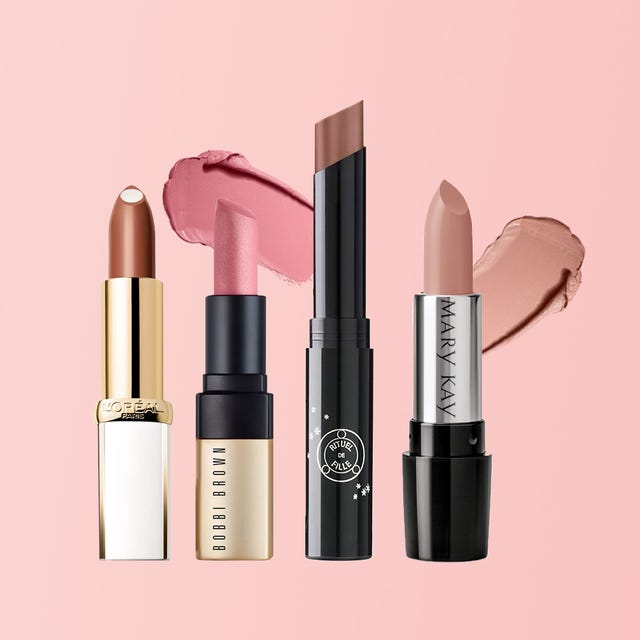 We updated this article in March 2022 to add more information about each featured product and details on extensive testing done by the Good Housekeeping Institute, as well as expert commentary on application and selection tips.
---
Like a classic little black dress, a flattering nude lipstick is a must in every makeup wardrobe: It complements everything from minimal to bold makeup looks and works for casual everyday settings and special occasions alike. "Nude" is a color that can range from pale taupe to neutral beige to rich brown. You can find your ideal nude lipstick shade by considering your skin tone, undertones, texture and level of pigmentation.
The Good Housekeeping Institute Beauty Lab is constantly testing all types of lipstick formulas both in the Lab using technical evaluations and on consumer testers. In the Lab, they are tested for color transfer resistance and lasting power throughout the day. Consumers also rank them on factors including ease of application and removal, look and feel on lips, color payoff, and how well they hold up against fading. In the GH Beauty Lab's most recent lipstick test, scientists tallied 1,496 data points to find the top-performing lipsticks. Here, GH Beauty Lab experts share the best nude lipstick colors you can get for all skin tones, preferences and budgets:
Our top picks
Best Matte Nude Lipstick
Luxe Matte Lipstick in Nude Reality
Longest-wearing
Full coverage
The Bobbi Brown matte lipstick formula, in a beige hue with blush undertones that looks beautiful on a wide variety of skin tones, beat all others in the GH Beauty Lab's longwear lipstick test for full color that stayed in place. It received top marks for not smearing or fading. "The color lasted five hours, through eating lunch, drinking beverages with straws and even biting nails!" a tester marveled.
Best Value Nude Lipstick
Color Sensational Lipstick in Nude Lust
Creamy, smooth finish
Rich color
Bargain price
For a great drugstore bargain (only $5!), look no further than this GH Beauty Award-winning Maybelline New York cream-finish in a balanced nude shade with hints of pink and brown. In a study of over 100 women, 86% reported that the lipstick's color looked fresh, 80% said it appeared rich and 89% found that their lips looked smooth while they were wearing it, a GH Beauty Lab data assessment confirmed.
Best Sheer Nude Lipstick
Enchanted Lip Sheer Semi-Matte Moisture Lipstick in Narcissus
Sheer finish
Natural-looking effect
Stays in place
If you prefer nude lipsticks with sheer textures and finishes, this Rituel de Fille hue, a GH Beauty Lab expert favorite, is for you. "It's a peachy natural-looking shade that can be buffed into lips for a real 'barely-there' look on a variety of skin tones," says GH Beauty Lab senior chemist Sabina Wizemann. "But it's also well-pigmented and stays put."

Best Pink-Nude Lipstick
Rouge Pur Couture The Slim Matte Lipstick in Ambiguous Beige
Long-wear formula
Non-drying
Rich, even color payoff
Some may find the unusual shape hard to use
Pricey
If you love your nude lipsticks with a touch of rose, pick this Yves Saint Laurent shade, a top performer in the GH Beauty Lab's longwear lipsticks test. Made with skin conditioners, the matte formula scored highest for not drying out lips and performed well for delivering even and vivid color. "Coverage was so full, I didn't need lip liner," a fan raved.

Best Nude Lipstick for Fair Skin
Love Me Lipstick in Under the Covers
Complements pale skin with pink undertones
Softening feel
May not be as long-lasting
This MAC Cosmetics shade is ideal for very fair skin, thanks to its flattering pink undertones. "For me, this is the perfect nude shade — it veers pink, but it still gives the illusion of 'my-lips-but-better' when I wear it," says GH's former beauty assistant. "It strikes the ideal balance between matte and sheer and it feels ultra-moisturizing on my lips."
Best Nude Lipstick for Medium Skin
Nudiversal Lip Duo in Shade 11: Istanbul
Mix of tones
Velvet matte finish
Matching gloss included
This Ctzn Cosmetics nude lipstick, which leans brown with hints of mauve and peach, is a great nude option for people with medium skin tones. "I love that this brand helps you find your nude shade with a quick questionnaire based on skin tone — my favorite is this one, Istanbul, which happens to be my birth city," says GH Beauty Lab Director Birnur Aral, Ph.D. "The lipstick goes on smoothly for a velvety matte finish and you can top it off with matching shade of the lip gloss on the other end for a shinier look."
Best Nude Lipstick for Olive Skin
Gel Semi-Matte Lipstick in Bashful You
Full coverage
Smooth finish
Conditioning formula
A GH Seal star, this satiny matte Mary Kay nude lipstick shade is frequently found in the purse of GH's beauty director, who has olive skin. The full-coverage formula contains gel spheres that help the pigments glide on smoothly and lock onto lips without bleeding, plus silica particles that blur lines and parched patches, GH Beauty Lab evaluations found. High concentrations of jojoba butter also condition, so "it feels comfortable and light on lips," she says.

Best Nude Lipstick for Brown Skin
Age Perfect Luminous Hydrating Lipstick in Brilliant Brown
Effectively moisturizes lips
2-in-1 lip color and treatment
This brown-based nude L'Oréal Paris lipstick formula with the Good Housekeeping Seal contains a core of skin-nourishing ingredients like jojoba oil and vitamin E. In a clinical study, the cream-finish formula kept lips moisturized for nine hours, according to GH Beauty Lab data analysis.
Best Nude Lipstick for Indian Skin
Mattemoiselle Plush Matte Lipstick in Freckle Fiesta
Highly pigmented
Long-wearing
A top performer in the GH Beauty Lab's longwear lipsticks test, this Fenty Beauty shade blends brown and rust-red to make for a spicy neutral shade that's perfect for warm Indian skin tones. The rich pigment of this lipstick "stayed on even during a cleaning at the dentist!" a tester marveled. In Lab evaluations, the color was still strong after five hours of wear.

Best Nude Lipstick for Dark Skin
Velour Extreme Matte Lipstick in Fierce
Rich chocolate shade flatters deep skin tones
Easy to apply crayon formula
Resists transferring and smearing
This slim Laura Mercier matte-finish lip crayon also topped the GH Beauty Lab's long-wear lipstick test and this rich chocolate brown shade perfectly complements deep skin tones. It ranked best for not transferring in the Lab's hot drink test and among testers for not smearing throughout the day. Many loved how easy the twist-up pen made it to apply the lipstick precisely. The "smooth" formula also had "great color payoff," users reported.
Best Nude Liquid Lipstick
Liquid Suede Cream Lipstick in Sandstorm
Easy to apply
No feathering
Long-lasting
This earthy nude lip color with brown undertones from NYX was a winner of the GH Beauty Lab's liquid lipstick test. The formula glides on like a gloss but provides the pigment of a lipstick. It had strong staying power in the Lab's hot drink transfer test and scored best for precise, even application without feathering. "A perfect look in seconds," one tester said.
Best Hydrating Nude Lipstick
Gen Nude Matte Liquid Lipcolor in Boss
Non-drying formula
Doesn't feather
May not be as long-lasting
Top-rated in the GH Beauty Lab's liquid lipstick test, this versatile BareMinerals pink-nude hue is made with natural ingredients like sunflower seed wax to keep lips soft. The "smooth" matte mousse formula tied for best at not dehydrating lips or feathering throughout the day in Lab evaluations. Two testers commented that the lip color was "soft" and "didn't dry out my lips at all".
How to choose the best nude lipstick

When shopping for the perfect nude lipstick for you, consider the following factors:
✔️ Your skin tone: The best way to choose a nude lipstick to flatter your skin tone is by determining your skin's undertone, the underlying color your skin casts, says Renée Loiz, a celebrity makeup artist in Los Angeles and founder of Color May Vary. "Warmer undertones have peachy or golden tones, cool undertones have more reds and blues and neutral undertones are a mix of both warm and cool," she explains. "The easiest way to find your undertone is to try on silver and gold jewelry: If your skin looks good in gold, you're a warmer undertone, if silver looks better, then you're more cool undertone, and if both silver and gold look good on your skin tone, then you're a neutral undertone." Skin with warmer undertones looks best in mauve-brown nude lip colors, complexions with cool undertones in pink-browns, and neutrals in either," Loiz says. As a general rule, for light to medium skin tones, look for nude lipsticks with mauve or pink hints; for dark skin tones, seek out chocolate browns with tinges of bronze.
✔️ Level of pigment: This determines how translucent or opaque the nude lipstick will appear on lips. Sheer lipstick formulas are subtle but can wear off faster, medium-pigmented lipsticks provide full yet soft coverage with more staying power, and full coverage lipsticks are completely opaque, usually lasting longest on lips but with a heavier or thicker texture.
✔️ Finish: The lipstick's finish determines what level of shine it has on lips. Shiny finishes reflect light, offering a glossy look; satin or cream finishes have a smooth and silky appearance; and matte finishes have a completely shine-free effect.
What's the best way to apply a nude lipstick?

It depends on your desired result, Loiz says. "For a more saturated and strong look, outline your lips first with a nude lip liner, then apply lipstick straight from the tube onto lips, filling between the lines and blending to finish," she advises. "If you want a softer look, line lips and lightly apply lipstick on top with a lip brush." Choose a lip liner one to two shades darker than your nude lipstick, Loiz recommends.
Why trust Good Housekeeping?

As the Beauty Director at Good Housekeeping, April Franzino has over 15 years of experience researching, writing and editing makeup-related content utilizing the expertise of the Good Housekeeping Institute Beauty Lab scientists and top industry professionals such as makeup artists and cosmetic chemists. She is an expert in all makeup product categories, including lip, eye and face makeup; tools; professional services and more. April works closely with the GH Beauty Lab to coordinate makeup product testing and translate test results into best-in-class compelling, factually accurate science-backed content for Good Housekeeping.
This content is created and maintained by a third party, and imported onto this page to help users provide their email addresses. You may be able to find more information about this and similar content at piano.io