We may earn commission from links on this page, but we only recommend products we back. Why trust us?
How to Roast Pumpkin Seeds the Right Way
You'll be baking up these babies allllll season long.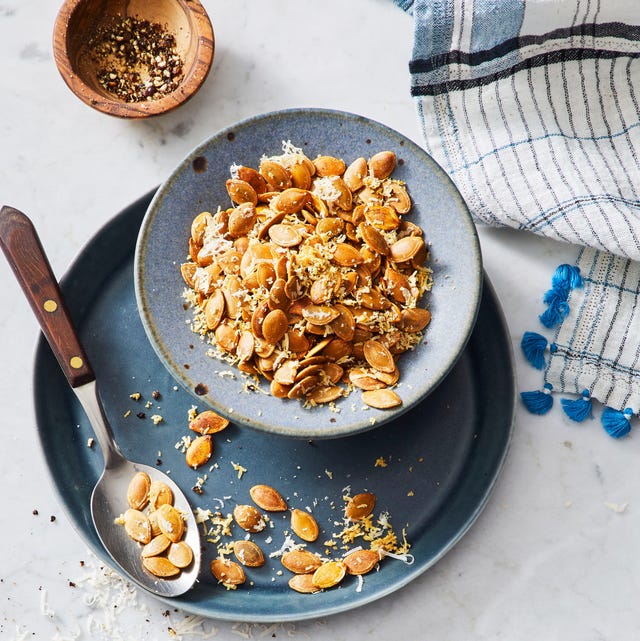 You're bound to have leftover pumpkin seeds from all of your pumpkin carving and creative fall crafts this season, so there's no better time to learn how to roast pumpkin seeds like a total pro. After you've become a scoop, season and roast master (more on that below), just wait until you try more sweet and savory recipes with pumpkin seeds. Once you get the basic steps down, you can experiment with all different kinds of seasonings that turn the simple seed into a tasty treat or healthy snack. It's the perfect crunchy and satisfying pack-along pick to stash in your kids' backpack or your purse. We can't wait to try all the delicious and festive pumpkin recipes this autumn— pumpkin seeds definitely included.
Follow our Test Kitchen-approved tips for pumpkin seed success:
Start with the right pumpkin. A good pumpkin will feel hard and smooth and have no soft spots or discoloration. Its stem will also be firm, and it won't show any signs of rotting near the base.
Clean your seeds by placing them in a large bowl of water first. This will help the loose seeds separate from the pulp, which sinks.
Amp up the flavor! Add hot cocoa mix, cinnamon or brown sugar to make it sweet, cayenne pepper to make it spicy, or finely grated cheese to make it savory. Get creative according to your cravings!
Prep Time:
0

hours

15

mins
Cook Time:
1

hour

20

mins
Total Time:
1

hour

35

mins
Use chef's knife to cut top of pumpkin off (if using for jack-o'-lantern), or cut pumpkin in half.
Use spoon to scoop out seeds (1 medium pumpkin yields about 2 cups); transfer seeds to large bowl of water.
Scoop out loose seeds that float and separate pulp from remaining seeds. Discard pulp.
Transfer seeds to colander and rinse. Drain, then pat dry with dishtowels.
Spread cleaned seeds on baking sheet and bake at 250°F until dry, about 1 hr.
Toss with olive oil, season with salt and roast at 350°F, tossing occasionally, until golden brown and crisp, 20 min.
Cool completely, then store in an airtight container.
Switch it up!
Add these seasonings before roasting in step 6 for a major flavor boost:
Fall Mocha: 1 Tbsp hot cocoa mix + 1 tsp ground cinnamon
Sweet Heat: 1/4 cup brown sugar + 1/8 tsp cayenne
Cacio e Pepe: 1/2 cup finely grated Pecorino Romano cheese + 2 tsp cracked pepper
This content is created and maintained by a third party, and imported onto this page to help users provide their email addresses. You may be able to find more information about this and similar content at piano.io