We may earn commission from links on this page, but we only recommend products we back. Why trust us?
How To Cut Brussels Sprouts in 3 Easy Ways
We love sprouts, any way you slice 'em.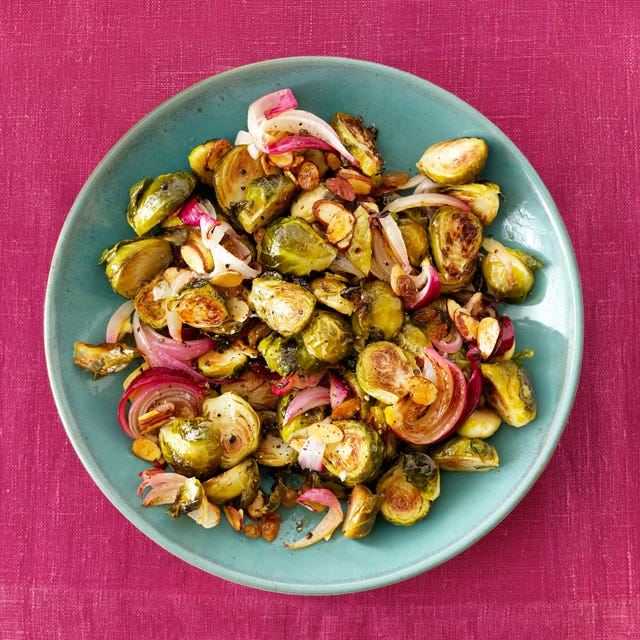 Learn how to cut Brussels sprouts, and you'll be equipped to try so many delicious recipes starring the crunchy green veggie. From Brussels sprouts with bacon to sliced sprouts on pizza, or even raw, lemony Brussels sprouts salads, there's so much you can do with this little cabbage. So let's get started, shall we?
How to prepare Brussels sprouts
While there's no right way to prep Brussels sprouts, there are three methods that we use most often for our favorite holiday side dish or easy weeknight meal: Halved, sliced or cut for blanching. For any of these preparations, first trim the sprout by slicing off the stem end and discarding any tough or discolored outer leaves.
To halve Brussels sprouts, cut the trimmed sprout in half lengthwise.
To slice Brussels sprouts, keep the sprout whole, then thinly slice crosswise.
For blanching, cut an "X" in the bottom of the trimmed sprout before adding to simmering water. This helps the sprout cook more evenly, allowing the center to cook at the same rate as the outer layers.
How to cook Brussels sprouts
Halved Brussels sprouts are best tossed with oil, salt and pepper and roasted at 400°F for 20 to 25 minutes. Be sure to arrange the cut sides of the sprouts down on the baking sheet so they get extra golden brown and crispy. Then, just toss the cooked sprouts with your favorite add-ins (we love Brussels sprouts with pepitas and figs!) for a healthy, hearty side.
Try sliced Brussels sprouts scattered on top of pizza before baking, sautéed and stirred into pasta, or simply enjoyed raw with your favorite vinaigrette. And for those "X" marked sprouts? Add them to a pot of well-salted, simmering water and cook for 7-10 minutes, until just tender when pierced with the tip of a knife. Drain the sprouts and toss them with any seasonings you like, such as lemon juice or vinegar, olive oil, salt and pepper.
Total Time:
0

hours

30

mins
2 lb.
Brussels sprouts, halved
2
red onions, cut into 1/2-in.-thick wedges
2 tbsp.
fresh lemon juice
Heat oven to 400°F. On large rimmed baking sheet, toss Brussels sprouts, onions, oil, 1/2 teaspoon salt and 1/4 teaspoon pepper. Turn Brussels sprouts cut side down and roast until golden brown and tender, 20 to 25 minutes; transfer to platter.
Five minutes before Brussels sprouts are finished, melt butter in medium skillet on medium until foaming. Add almonds and cook, stirring, until almonds and butter are golden brown, 2 to 3 minutes. Add raisins, lemon juice and 1/4 teaspoon salt and swirl pan to combine. Spoon brown butter mixture over sprouts and onions.
MAKE AHEAD: Refrigerate roasted Brussels sprouts and onions up to 1 day. To serve, bring to room temp, then warm at 375°F for about 10 minutes. Prepare brown butter sauce and spoon over vegetables as directed.
How to cut Brussels sprouts
For all of these methods, first trim ends off Brussels sprouts. Discard any tough or discolored outer leaves.

How to cut Brussels sprouts for roasting or sautéing
Halve sprouts lengthwise. Arrange cut side down on the baking sheet or skillet to get them nicely golden-brown and crisp.
How to cut Brussels sprouts for eating raw
Thinly slice whole Brussels sprouts. This can also be done using the slicing attachment of a food processor.
How to cut Brussels sprouts for blanching

Cut an "X" in the bottom of the sprout, slicing about 1/2 inch deep.
This content is created and maintained by a third party, and imported onto this page to help users provide their email addresses. You may be able to find more information about this and similar content at piano.io