We may earn commission from links on this page, but we only recommend products we back. Why trust us?
How to Cook Steak in the Oven
Too cold outside? No grill? Perfectly cooked steak is still possible.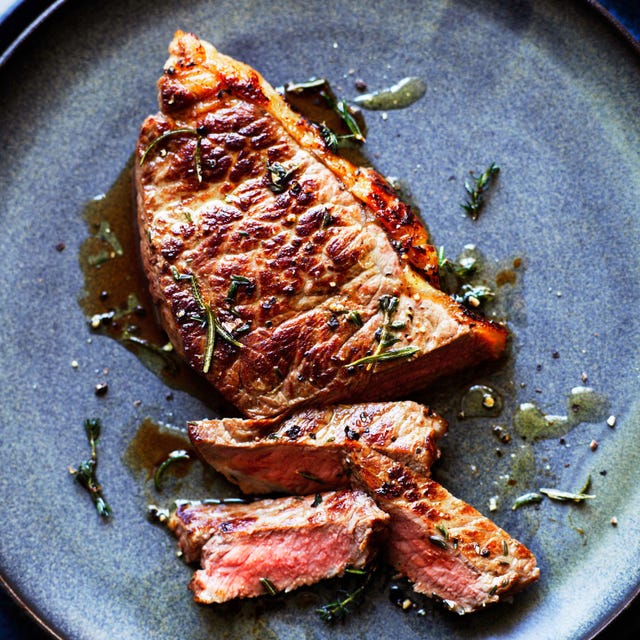 While it may be a popular technique, grilling isn't the only way to make flavorful, juicy steak. Whether you don't have the space for a charcoal or gas grill or it's just too cold to brave the outdoors, you should know how to cook steak in the oven so that you can satisfy your craving any time of the year. For our preferred method, all you need is a cast-iron skillet, but a meat thermometer would also be helpful. With these tips in mind, you'll knock any steak recipe out of the park.
The best method involves a quick sear in a super hot, cast-iron skillet (or other heavy, oven-safe skillet) before finishing in the oven. This works for all cuts of steak — NY strip, filet mignon, flank steak, you name it. While it's better for thicker cuts, it still works for thinner cuts (just cook them less!) and it's the easiest way to achieve a juicy steak with a perfectly dark, crunchy exterior.
Bring to room temperature— Take your steak out of the fridge and let it sit for about 20 to 30 minutes until it reaches room temperature. While you wait, heat the oven to 425°F.
Season generously— After your steak has come to room temperature, and just before searing, season both sides with a sprinkle of salt and pepper. Toss any aromatics like rosemary, garlic, or shallots into the pan when you add the steak, which will flavor the oil as the steak cooks.
Sear both sides— This part is essential for that dark, caramelized crust. Add about 2 teaspoons of oil to a hot cast-iron skillet (emphasis on the hot!), then sear the steak for about 3 minutes per side, less for thinner cuts.
Finish in the oven— Pop the steak into your pre-heated oven and cook for about 3 to 10 minutes, depending on thickness. For reference, a medium-rare New York strip steak recipe cooks for an additional 3 to 6 minutes. That would be about 135°F in the thickest part, if you're using a thermometer.
Let it rest— As tempting as it may be to dig in immediately, it's very important to let your steak rest before cutting so you don't lose all that juiciness. Let it sit on the cutting board for at least half of its total cooking time after taking it out of the oven.
Slice against grain— One of the most common mistakes that leads to tough, chewy steak is slicing it incorrectly. After your steak is done resting, slice it with a sharp knife in the direction that goes against, or perpendicular to, the grain of the meat.
Serve and enjoy!
Total Time:
0

hours

20

mins
4
cloves garlic, in skins
Heat oven to 425°F. Heat medium cast-iron skillet on medium-high. Season steak with 1/2 teaspoon each salt and pepper. Add oil to skillet, then add steak, garlic, and rosemary and cook until steak is browned, about 3 minutes per side for 1/2-inch or thicker cuts, 1 minute per side for thinner cuts.
Transfer skillet to oven and roast until steak is at desired doneness, 3 to 6 minutes for medium. Transfer steak to cutting board and let rest at least 5 minutes before slicing.
Did you make this recipe? Comment below!
This content is created and maintained by a third party, and imported onto this page to help users provide their email addresses. You may be able to find more information about this and similar content at piano.io