We may earn commission from links on this page, but we only recommend products we back. Why trust us?
How to Brine Turkey for Your Best-Ever Bird
Everything you need to know about turkey brining (including whether a wet brine or a dry brine is better).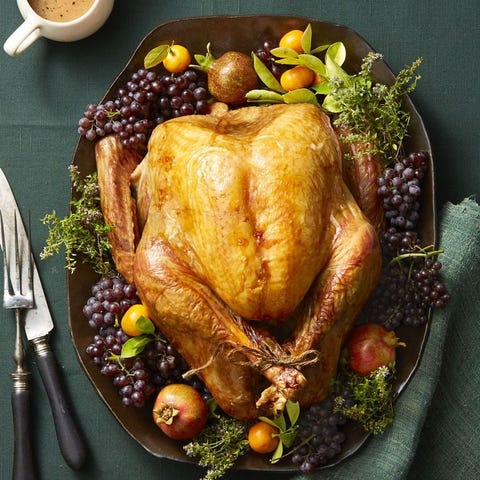 As Thanksgiving approaches, our food editors always get the question: Is brining a turkey worth it, and how do I brine a turkey? Luckily, the answer is simple. If you have the time before Thanksgiving dinner, learning how to brine turkey is the best way to ensure a moist, flavorful bird to go with your Thanksgiving appetizers and Thanksgiving side dishes. Plus, it doesn't have to be complicated! Our easy turkey brine recipe with step-by-step instructions makes it a cinch to prepare a turkey like a total pro. But first, let's start with the basics.
How do you brine a turkey and why?
Brining is the process of soaking a food, often meat or vegetables, in a highly seasoned salt solution, called a brine. Brining meat is a simple technique that makes a world of difference in terms of texture and flavor, especially when it comes to the drier tendencies of turkey. First, it seasons the meat throughout in a way that just sprinkling salt on the turkey before roasting never could. Second, it keeps the turkey incredibly moist, which ultimately helps you cook the bird evenly. Through osmosis, the flavorful brine is absorbed into the meat, thereby seasoning it through and through. The salt in the solution also changes the protein molecules in the meat so they can't form tight clumps, thus making the meat more tender.
Which is better: Dry brining or wet brining?
It's important to note that there are two ways to brine turkey. The first is the traditional way, using a salt-water solution. This is called a wet brine, and takes at least 8 hours. Find the recipe for this simple brine for turkey below.
The other method, a dry brine, is a bit easier to pull off though the process takes longer — up to three days. Also known as pre-salting, this method uses a bit less salt and no liquid at all. It's also a more fridge-friendly method, since you don't have to worry about space for a turkey and a bag or pot of liquid.
Both methods help to achieve a well-seasoned, perfectly cooked bird, so choose the method that works best for your timeline and kitchen space.
FYI: If you are brining your turkey you'll want to avoid using a kosher or pre-seasoned turkey, which will end up way too salty if brined.

How to wet brine your turkey
For wet brining, you'll want to use a ratio of ½ cup of kosher salt to ¼ cup of sugar to 2 quarts of cold water. You'll need enough water to completely cover the turkey (or turkey breast) in a large pot. Wondering how long you should brine your turkey? Cover and refrigerate for at least 8 hours and up to 16 hours for a bird larger than 14 lbs. For a smaller bird or turkey breast, brine no longer than 12 hours. Give it a flip about halfway through. For wet-brined birds, when you're ready to cook the turkey, rinse it with cold water and pat it dry with paper towels.

How to dry brine your turkey
Dry brining involves rubbing a mix of salt and seasonings directly onto the turkey's skin. You'll need to let your dry-brined turkey sit in the fridge for up to three days, but since you can do it ahead of time, it's a great way to check something off your list before the craziness of Turkey Day begins. For a 12- to 14-pound turkey, use 2 Tbsp of kosher salt mixed with the seasonings of your choice. Let the brine sit on the bird at least overnight or up to 2 days for a medium bird (12 to 14 pounds) and up to 3 days for a large turkey, before cooking.
Total Time:
8

hours

0

mins
Flavorings, like parsley stems, thyme stems, rosemary stems, black peppercorns, ginger, bay leaves
Combine all ingredients (except turkey) in a large pot. Include flavorings, if desired.
Heat mixture over medium, stirring to dissolve the salt and sugar.
Remove from heat and add 4 cups ice to cool the brine completely.
Either place the turkey in the pot with the brine or transfer the brine to a large brining bag (or a 2-gallon resealable bag if you're making just a turkey breast).
If using a pot, weigh turkey down to keep it submerged. If putting turkey in a bag, place it in a shallow dish or pan in case it leaks.
Cover and refrigerate for at least 8 hours and up to 16 hours for a bird larger than 14 lbs. For a smaller bird or turkey breast, brine no longer than 12 hours. Flip turkey about halfway through brining process.
When ready to cook, rinse turkey with cold water and pat it dry with paper towels.
This content is created and maintained by a third party, and imported onto this page to help users provide their email addresses. You may be able to find more information about this and similar content at piano.io